EDWARD AUGUSTINE MCGUIRE(1901-1992)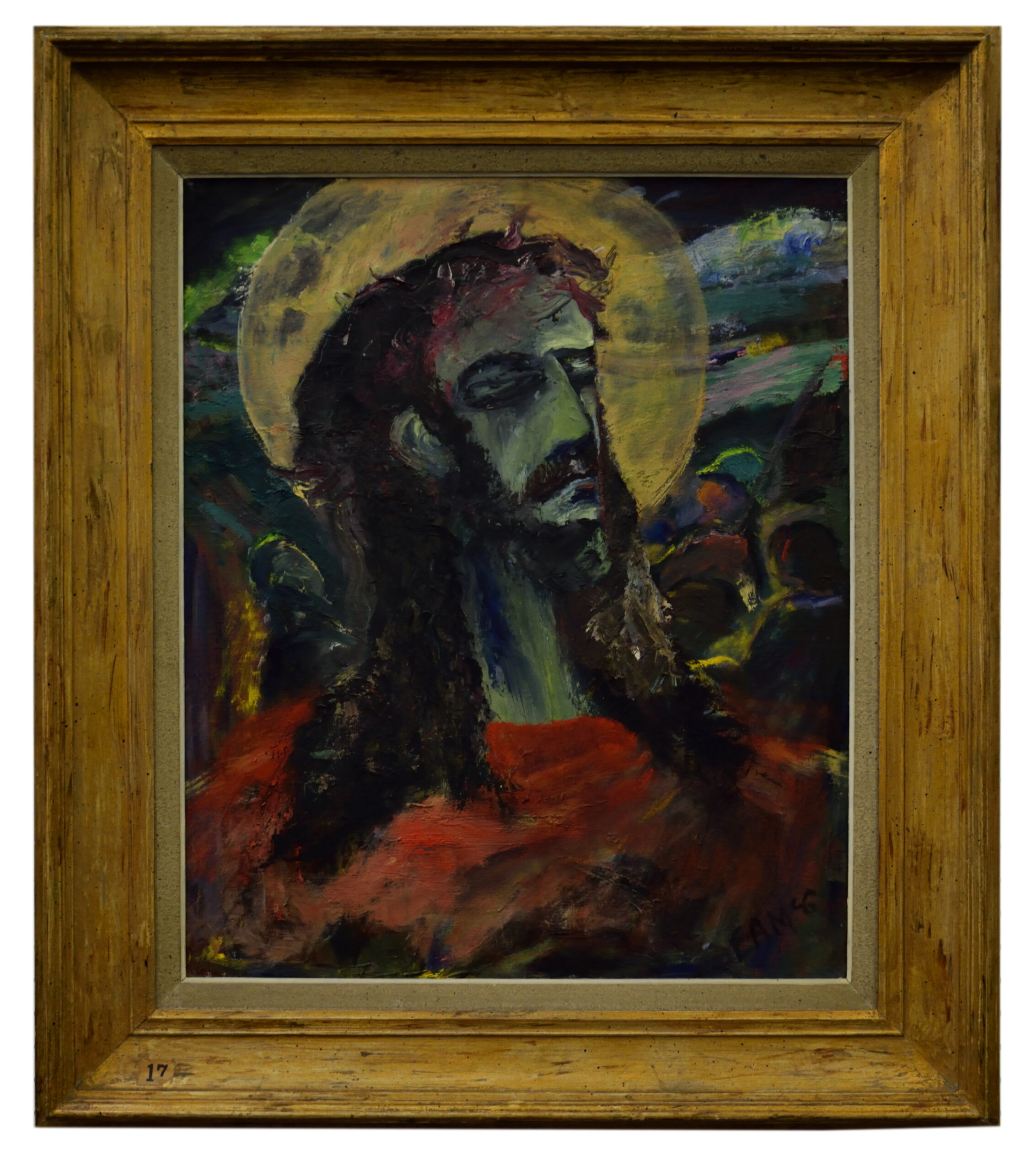 EDWARD AUGUSTINE MCGUIRE(1901-1992)
'Ecce Homo', oil on canvas, signed, with Exhibition of Living Art 1950 Label verso,
60 x 50 cm
Exhibited: Exhibition of Living Art 1950, Catalogue Number 17.
€ 2000 – 3000
Edward Augustine McGuire was an artist, business man, politician and tennis player. McGuire was educated at Douai School in Woolhampton, England. He was elected to 6th Seanad in 1948 by the Taoiseach, was nominated to 7th Seanad in 1951 by the Industrial and Commercial Panel, and re-elected in 1954, 1957 and 1961. He eventually lost his seat in the 1965 Seanad election. As a business man he was the owner of Brown Thomas, along with several other investments including Newtown Park House in Blackrock, Co. Dublin. Under the proprietorship of McGuire, Newtown Park House swiftly became the perfect background for his developing collection of 17th and 18th century European works of art, as well as a collection of Irish furniture and Chinese porcelain.
McGuire had an incredible knowledge of the artistic dynamics in Ireland prior to World War II. This was a prolific time for the development of collections, as so many of Ireland's foremost houses were being sold off. During the 1930's he was one of the few forerunners interested in the history of Irish painters and some of his respected articles on Irish pastellistes appeared in journals such as the Connoisseur. Many pastels by Hugh Douglas Hamilton and other Dublin artists were represented in his collection, and the influence of his interests can be seen in his works, including those consigned to this sale.
McGuire is celebrated as one of the fathers of modern artistic appreciation in Ireland and over the span of his life there were practically no governance in relation to artist on the Island, in which he was not involved in.
He was on Ireland's first Arts Council, the Cultural Relations Committee and on the Board of Governors and Guardians of the National Gallery of Ireland throughout the course of his life. His work 'Ecce Homo' (Lot 99) exhibited in The Exhibition of Living Art (1950) being an example of this involvement.
Ross O'Sullivan BBS (Hons) (Mgt) MIPAV MMCEI