Staff Picks | Augusts Fine Art & Decorative Interiors Auction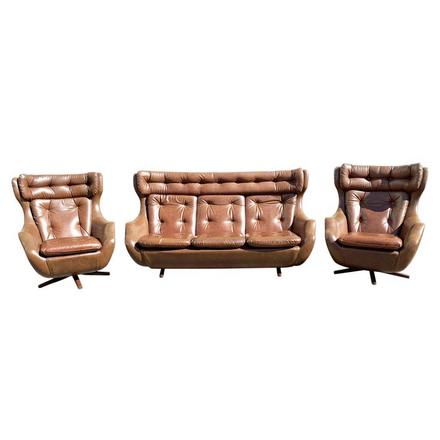 'Staff Picks' for the Fine & Decorative Interiors Auction this August from Ben Simpson.
Tom Cullen – Harbour Scene, oil on board, signed, framed
Renowned for his scenes of old Dublin streets and shopfronts like Merchant's Arch, the Grand Canal and others, Tom Cullen's works are a great way to get into collecting Irish art. Born in 1934 to a butcher in Donnybrook, Cullen was a prolific artist and his paintings turn up regularly in our sales. The prices for his works can be quite reasonable, with certain works going for as little as €200. Lot 230 in this week's sale, depicting the old Dalkey Harbour is a lovely little piece and should make €2-300. Cullen died in 2001 but he lives on in his vignettes of a Dublin gone-by.
Vintage Parker Knoll Three Piece Suite
This classic piece of vintage furniture from renowned chair makers Parker Knoll, in the aptly named 'egg' style, is made for comfort. It is extremely rare to get a full suite in its original cover – I have only ever seen a pair of chairs come in for sale in thirty years working here, and they made €400 in bad condition. With its pair of swivel armchairs, this suite would fit with all sorts of interior decors. This is a great opportunity to acquire a wonderful piece of mid 20th century in fantastic condition – you won't see one again anytime soon.
If you have anything similar you are considering selling please get in touch with our specialist for free no-obligation advice.