Auctions Continue with Changes Due To Level 5 Restrictions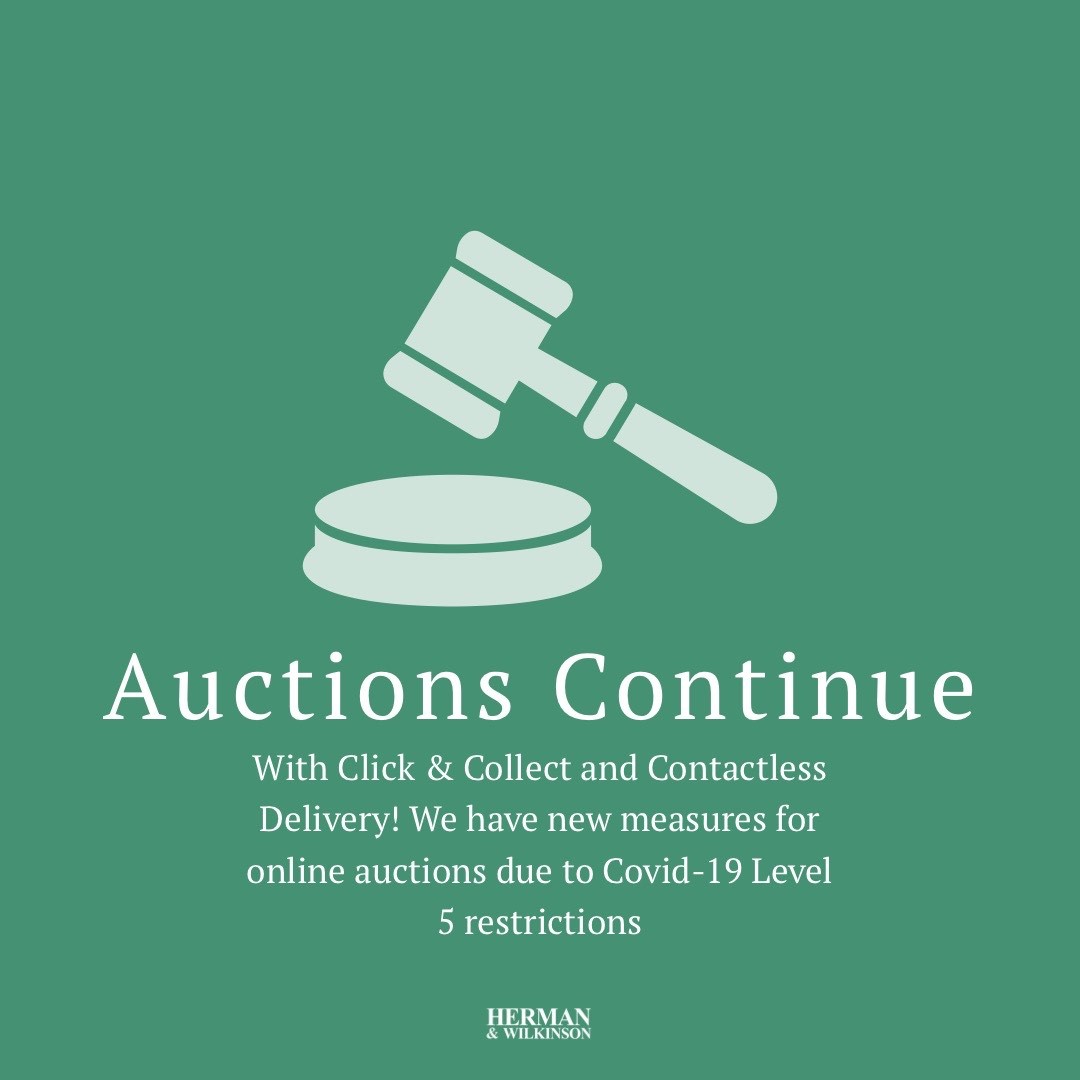 Dear Customers,
Please see the information below with the operational changes allowing us to continue auctions during Covid-19 level 5 restrictions.
SUCCESSFUL BIDDERS | If you are successful with an item(s) you will receive an online invoice 3 Hours after the auction. This will contain a breakdown of successful lots, booking appointment link for our click and collect service or if you would like delivery added to your invoice please email accounts@hermanwilkinson.ie. See collection and shipping details below. PLEASE NOTE: All invoices must be paid for by Friday.
PAYMENT | Payments must be made by credit or debit card online through the email invoice. If you are having difficulty paying, please email info@hermanwilkinson.ie and wait for our staff to assist you. PLEASE NOTE: The office is closed and payments or queries cannot be made onsite.
COLLECTION | If you are successful you will receive an invoice email, all invoices must be paid online. You can then use the link in the to book a collection appointment. Please note you must book a collection appointment in advance otherwise you will be refused entry to the premises and will not be able to collect your lots. PLEASE NOTE: If you buy furniture our porters cannot assist you in moving the item any further from our designated drop zone. Therefore you must bring help to assist you to put the item(s) in your vehicle. If you are collecting you must comply with government guidelines and be within a 5KM radius of the Auction Rooms.
SHIPPING | We can offer you a full 32 county, delivery service for parcels (a couple of small lots, Painting, or other similar items) for just €15.00 plus VAT per parcel. This price includes the collection of the goods by the local courier in your area along with full track & trace and online proof of delivery. Small/ Light boxable occasional furniture €25.00 plus VAT per item. Should you have any small items, we also offer an A4 sized satchel service at cost of €9 plus VAT for full nationwide delivery. For UK deliveries we operate at 48-hour service at a cost of €25.00 plus VAT per parcel (a couple of small lots, Painting, or other similar sized items). We cannot ship furniture, or items bigger than what one man could reasonably be expected to lift on their own. This also includes full online track & trace with proof of delivery. Larger furniture can be delivered on request. If you are interested in multiple lots and want a shipping estimate, please email accounts@hermanwilkinson.ie International Shipping This should be completed with mailbox etc. is our local branch: Website: https://www.mbeireland.ie/irelanddublinlombardstreet PLEASE NOTE: We aim to dispatch the lots purchased within a week, subject to courier availability and swift payment by the purchaser. If payment is received by Friday this will cause a delay in delivery.
CONDITIONS OF SALE | All auctions are still subject to the Conditions of Sale and Terms & Conditions
IMPORTANT NOTICES:
The auction office is closed and is contactable by email info@hermanwilkinson.ie only
No payments can be taken onsite, all payments without exception must be taken online.
If using Click and Collect service you must book an appointment slot, only arrive at the allotted time and vacate the premises when you have collected your lots.
If you are late for your appointment you will have to reschedule your appointment. You CANNOT arrive for your appointment early or late.
If you are collecting furniture you must bring help with you to load the item(s) into your vehicle. Due to the restrictions, our porters must drop the items into the designated collection zone, and you are responsible for the item(s). Our staff cannot under ANY circumstance load your vehicle for you.
Due to the restrictions, we are operating with a skeleton staff, so please understand that our response times may be affected.
Thank you for your understanding,
Herman & Wilkinson