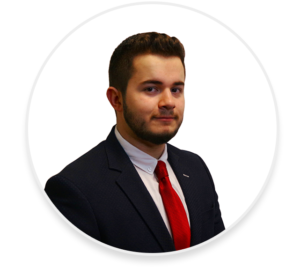 Ross O'Sullivan BBS (Hons) (Mgt) MIPAV - Associate Director, Auctioneer & Valuer
Ross joined the company in early 2016, and was appointed Associate Director in 2018. Since then he has helped shape and manage the vision of the firm. Before joining the company he worked for Adams Auctioneers in St. Stephens Green, as well as this he built experience dealing with Sotheby's and Bonhams, helping him grow his knowledge in his specialist fields.
Ross has specialist expertise in the areas of Modern & Contemporary Art, he is Head of Sale for our Modern & Contemporary Art and Fine & Decorative Art Departments. As well as this Ross has conducted some of the largest commissioned valuations in the history of the state, and he is particularly experienced in the areas of Government and Estate valuations.
Ross has a particular interests in the global auction market, and is continually looking to help shape the future of auctions in Ireland. He holds an honours degree in business management, a certificate in Fine and Decorative Arts from the Institute of professional Auctioneers and Valuers and he studied Antiques Forgeries, Fraud and Trafficking with the University of Glasgow. Ross is a PRSA licenced auctioneer, and a member of the Institute of Professional Auctioneers and Valuers.